---
---

we support it!!!



---
2 0 1 3
---
---
December, 2013
Our great Obedience - Girls & Boy!!!
Two weeks of obedience are behind us
At the examination in ÖRV Wöllersdorf - judge Mrs. Doro Seidenschmiedt - our girls showed a very good work.

Obedience-1
1st April - excellent - 249,5 points
also Bella got the mark excellent - she could reach 224 points.

***
Only one week before there was the examination at ÖGV Felixdorf (judge: Mr. Christian Steinlechner). The first snow of the year was falling down heavily, so the dogs were a bit confused.

Obedience-1
April got 185 points, mark "good"
Bella got 211 points, mark "very good"
1st place was going to our little Aislinn, 256 points, and ofcourse also the ark "excellent"!!!

***

Obedience-Beginners:
Mo reached 186,5 points, mark "good"
Many congratulation to the succesful teams!
---
October, 2013
Full Power & creeps at Saturday!!!
What a day!!! Dog show and Obedience competition at the same day!!!
Let´s start with the dog show:
male dog – puppy class

,




very promising 1, SHEPHERD CALLS BRILLIANT

BRADLEY
male dog

– adult class.


excellent-3, SHEPHERD CALLS AWAY

MO
bitches – adult class.




excellent-1, winner of theLower Austria Show, BOS, SHEPHERD CALLS AWAY

APRIL
Wanna share the result of April with you: (judge: Fr. S. Naprawnik).
28 month old, correct build, female young bitch, excellent head, middle brown eyes, correct teeth, correct upper line and deep of breast, very good stubstance, correct angels, tail correct, quick, nice movement, hindlegs a little bit tight, nice character, typical coat for the breed.


At the evening it was creepy at the Halloween-Obedience Competition!!!
Our girls startet at class 1. Judge was Gerlinde Österreicher.
April started long after midnight - she got the 4th place (out of 12 startern). Bella got the mark "good"
---
September, 2013
April & Jula - walk around with our flock!!!
Yesterday April and Jula walked togehter a part of our flock. For the first time little April was responsible for the sheep.
---
September, 2013
April fastes dog at the fun-race!!!
April took place at the Schnauzermeeting on Lamaranch in Schönau, and was able to get the title "fastest dog of the day". Was a fun run, of course, but she was faster than any other breed! We had and the dogs a lot of fun, was a great day. And we look forward to the meeting in 2015!
---
September, 2013
Lida´s new passion: Sheep herding!!!
Fearless and competely focused is our 6 months old Beardie girl! Obviously it needs some more lessons to calm her down, but she is definitely a dog who never quits!
---
September 2013
BELLA was at the advertisement for the pet fair!!!
Presentation of all breets: Gibbs, Bella, April & Jula:
Klick!
---
August 2013
Family-Meeting "Shepherd-Calls & Friends" 2013
This time we had a great walk through the woods and wineyards. A lot of happy Beardies and people were around!
And at the winery "Schloßhof" at Bad Vöslau we ate and they treated us and the Beardies very kind!!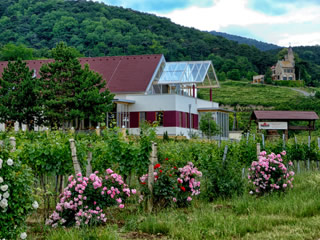 Thanks to all for coming - even some of you had a very loooong way to go!!!
---
June 2013
...though it was awful hot Fozzy showed a wonderful heelwork and had of course he was able to pass the BGH-1 examination!!!
---
June 2013
Who would think by seeing them work, that Barney & Barbarix are less then 4 months old? Though the love to play and run around out of the field - as soon as it comes to work they seem to be different dogs: full concentrated and eager to keep the sheep with the handler!
BTW that was their very first session. Hope they continue the training, because the two of them are very promissing!
Barbarix:
Barney:
---
June 2013
Also Bradley found a great new home!!! Lucky Boy!!!
...together with his brother Dexter at the photographer's in Vienna!
---
May 2013
...every year again... Bella and "her" red-poppy-field:
Bella und April - poppy & cornflowers suits them best!
---
16-03-2013
Great success for April at the last Obedience-competition!
228 points - mark "excellent " - 3rd
---
February 2013
Shepherd Calls Brilliant
Wurfdatum 21.2.2013
They arrived!!!!
Our litter "B" -- "Shepherd Calls Brilliant" -- is born!!!
...well done Bella! She gave birth to 8 puppies - 5 boys and 3 girls, all black and healthy Babies in the early morning todayt!!!
Foto: 1. Tag.
1st visit at Daddy´s & going shopping
Litter "B" - trip to our sheep
---
Our little April made it!!!
...at the Obedience competition WHC Tattendorf!!!
15 dogs startet in her class (beginners) -
APRIL got the mark "excellent" - 246,5 points
3rd place!!!
judge: Mr. J. Kurzbauer / AT
.
---
Dec. 2012
"WE" are PREGNANT!!!
Right back from the vet with some awful good news! Bella is pregnant!
Puppies should arrive around 19th of February!